Ultra thin panel 10mm, with popular acrylic surface, very luxury and elegent !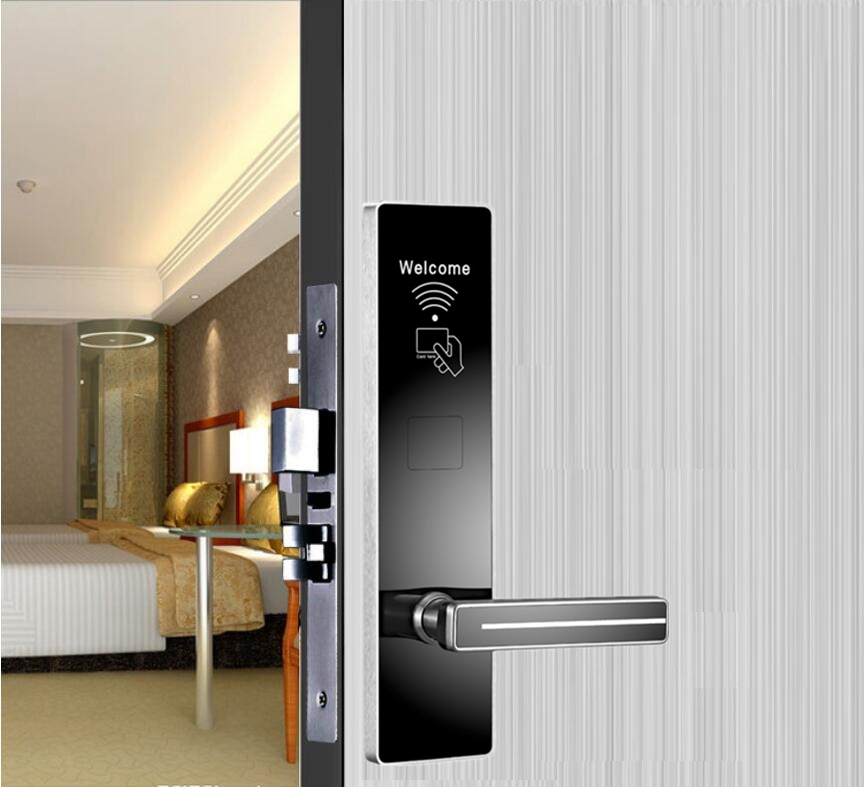 Superior Benifits :
◆ Stainless Steel material for panels and handles, self-error detective, very durable and attractive.
◆ Warranty is 2 years
◆ Can work with new developed wireless online iMaid System to enable hotels to have real time rooms' status,
To check if guest is in room or out and how much time he stays, To get fast response from guests if DND and CLEAN is requested.
◆ Can realize " One Card System ", Wall Reader and Elevator Controller are available to be integrated with hotel elevator,
parking barrier system, common doors, swimming poor doors, restaurant doors, POS...etc.
◆ CE, FCC certified
◆ Adopt Japan MABUCHI micro-motors which ensure 500,000 running times without problems.
◆ RFID Mifare PHILIPS technology, 100,000 times write life for keycard, contactless reading keycard.
◆ ANSI / US Standard mortises
◆ Free-rotating while locked
◆ Powered by 4 units of AA batteries, easy replacement.
◆ Openings 20,000 times for one new battery pack.
◆ Mifare card and RF card versions are available.
◆ Lower power alarm voltage : 4.8V ( still able to open about 100 times )
◆ Meeting passage mode is actived by passage card for meeting case.
◆ 3 public passage modes : Hotel Passage, Building Passage and Floor Passage.
◆ Do not disturb ( D.N.D )function is available : while dead bolt is on from inside, the lock will refuse keycard from outside by red light blinking.
◆ Panic release function : the deadbolt and latch are automatically retracted by inside handle pressing to easy egress when emergency happens.
◆ For 35-75mm thickness doors
Card Useage:
◆ Guest Card : Issued from reception to open its own room with expiration date.
◆ Master Card : Hold by management or GM or Manager to access all rooms of hotel( even locked by deadbolt ).
◆ Floor Card : Hold by clean staff to enter the rooms in one floor.
◆ Building Card : Hold by Manager to enter the rooms in one building.
◆ Lost Card : To suspend the lost guest cards.
◆ Emergency Card : Enter all rooms when emergency happens, and the rooms will stay open.
◆ Group Card : Can open all rooms you selected in one Group. random rooms.
Technicial Features :
◆ Power : 6V / 4 x AA batteries
◆ Card : RF ( 125KHz ) and Mifare ( 13.56MHz ) Cards are available.
◆ Inductive Distance : 2-5 CM
◆ Working Temperature : -30℃~60℃
◆ Working Humidity : 15~85% RH
◆ Static current : < 10uA
◆ Working current : < 150mA
◆ Unlock record : The latest 350 records is available
◆ Gross Weight : 2.9 KGS
◆ Package : 6 Locks / box , 61.5x36.5x32 CBM / carton.
◆ Open mode : Card and Mechanical keys.
Related Products